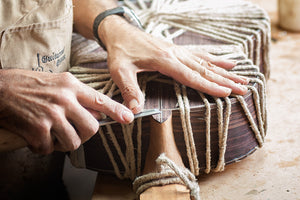 Our collection has been highly refined over the years, and all our guitars have been hand selected by us with quality in mind. We don't aim to focus on quantity or to stock every brand we can - we look to provide you with only instruments that we believe have a high build quality, and the years of engineering behind us allow us uphold that standard. Bringing handmade, independent brands to the South West is something we take pride in, so we aim to establish personal connections with our suppliers; visiting the workshops, speaking with the luthiers, discussing their craft - making sure that every step we take goes toward finding the best instruments we can!
SEARCHING FROM SOURCE
To bring the best instruments to the South West
Dowina Guitars
Handmade in Bratislava, Slovakia. Dowina Guitars are a family based company with father Stan and daughter Erika manning the helm. They design unique body sizes and specialist construction techniques. Stan previously trained as a violin and cello luthier, he employs techniques like 'Tuning the Wood' as you would see in high end violins but implements them on his guitars. Making sure they source sustainable wood stock is a key component to their business model and we can proudly say that Dowina supports Taylor Guitars 'The Ebony Project' in Africa - supporting sustainable ecosystems for all workers involved in the product!
Larrivee Guitars
Handmade in California, USA.

Jean Larrivée Guitars Ltd. is a Canadian company that manufactures acoustic guitars. Founded in 1967 by Jean Larrivée, the company nows builds guitars in California and has since September 2001. Larrivée source impeccable materials and it shows in their instruments. A humble tone that is deep, rich and will only leave you warm and wanting more.
Stoney Creek / De Haan Guitars
Handmade in Heiloo, Netherlands.

De Haan is a partner company with Stoney Creek Guitars. De Haan is the original company which now makes handmade, one of a kind acoustic and archtop guitars. Owner/Founder Frank De Haan has a team of dedicated luthiers and also runs a guitar making school. His acoustics are few and far between but if you can get your hands on one then count yourself lucky! They truly are a work of art.

"Stoney Creek Guitars stands for an honest hand built guitar. We have decided to work old school and make everything by hand which, apart from the fact that every guitar gets extra special attention, is great fun to do. Our guitars stand out by their amazing playability, use of special kinds of wood and authenticity. Each guitar is one of a kind and has been worked on with great craftsmanship and precision for detail. Stoney Creek guitars: Sophisticated hand built guitars for any guitar player who fancies something different."

- Frank De Haan
Esteve
Handmade in Valencia, Spain.

Since their foundation in 1957, the quality and attention to detail Esteve bring, together with the incorporation of new technologies and the hard work of their craftsmen have made them company of international renown. With some of the best and most visually stunning classical guitars we've ever seen - Esteve really capture the the spirit of Spain all while bridging that difficult gap between artisanal tradition and modern building techniques.
FGN Guitars
Handmade in Matsumoto, Japan.

With over half a century of experience & passion building the highest quality instruments, FGN is considered the greatest guitar manufacturing company in Japan. Established in 1960, the legendary Fujigen factory has been manufacturing guitars and basses for the worlds leading companies. As the original manufacturer, FGN is largely responsible for the high quality and success of many of the worlds most respected brands.