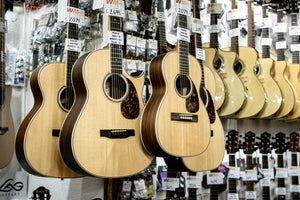 Established in 2011 WM guitars has set out to always go the extra mile - finding the right guitar for the right individual is key. We strive to create an environment where our customers feel engaged in that process. In our shop we want people to be able to explore our collection, discuss what is right for them and let the instruments speak for themselves, all without feeling pressured.
A Tailor picked selection
Our collection has been highly refined over the years, and all our guitars have been hand selected by us with quality in mind. We don't aim to focus on quantity or to stock every brand we can - we look to provide you with only instruments that we believe have a high build quality, and the years of engineering behind us allow us uphold that standard.

Bringing handmade, independent brands to the South West is something we take pride in, so we aim to establish personal connections with our suppliers; visiting the workshops, speaking with the luthiers, discussing their craft - making sure that every step we take goes toward finding the best instruments we can!

Guitar Specialist of the Year 2020/21
We're proud to say we've won Prestige Awards 'Guitar Specialist of the Year' for the South West 2020/21. The judges we're really impressed with our glowing Google reviews and we would love to thank all our customers, we wouldn't of managed to get this award with out you!
Walter Havinga
Founder/Head Technician

With over 30 years of engineering history in various trades. Walter is also an experienced carpenter and joiner. He's always up for a laugh but make sure your able to withstand a barrage of dad jokes.
Mark Holyer
Founder/Manager

With years of experience in care and working in kitchens as a trained chef. Mark knows how to deal with the stress, now running the backend of WM Guitars. He's also our trained first aid technician, just incase Walter hurts himself!
Ryan Havinga
Partner/PR/Technician

Ryan has been with WM Guitars for over 7 years and a partner for over 5 years. Ryan worked up through the ranks and now deals with public relations, dealing direct with factories. Ryan is also a fully trained technician.
Demetri Hull
Technician

Demetri has been with WM Guitars for just over a year now going through our painstakingly long training scheme. He's proven himself not only in the workshop but as a great new asset to the WM Guitars team!
Fin De Freitas
E-Commerce / Social Media Manager

Fin has recently joined the team here alongside some exciting changes! He's helped develop our new website and online store, and will be managing those going forward.